Morning fans! It's been awhile now. I got married a week ago (one of the best days of my life!) and I've been really busy with all the planning for that. I've also had the big (and boring) "pre-release to-do list" to go through but now I'm finally (almost) done with that.
I've also started my new Facebook page. I was a bit late to that party but now it's finally up and running. I strongly recommend you to check it out!
Below you can see the actual CD! Straight out the factory. Awesome photography by Sandra Lee Pettersson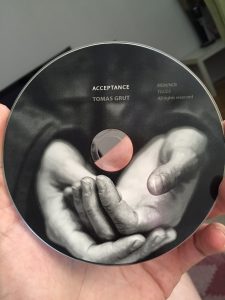 I just listened to the full album for the first time in awhile. Old influences from my earliest work mixed with a lot of new elements and flavours. I think that's my best description of it. It's without a doubt my musically broadest album so far. So I really think it will appeal to old fans but also attract new ones as well!  
You'll be able to hear my newborn ACCEPTANCE on september 1st
I'm really looking forward to that!
See you!
T
"If you are going through hell, keep going." ~ Winston Churchill