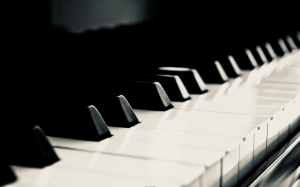 My dear fans!
Just wanted to let you all know that I have about 7 songs more or less done for my upcoming 4th full length album. The material is a lot darker, mysterious and more piano-focused than my latest outing. There won't be more than maybe 2 songs with other instruments this time. I've also experimented with some different time signatures and rhythms I'm not used to. I've listened to a lot of progressive rock lately as well as some oriental music that I think has unconsciously inspired me in doing that. There are some really cool and dramatic rhythmic parts that I love to play and that I look a lot forward to perform live for the first time.
The release date and album-name are still not decided but I can share with you a few tentative song titles like Black Star, Ghosts, The Fire and Fragments.
I also think I have decided which artist I would like to collaborate with this time for the artwork. I really love his paintings! And I also think I know which song I will choose to release as the first single from the album. More on that in the future.
That's all for now! I hope you've had a pleasant Easter break
See you
Tomas
"If you are going through hell, keep going." ~ Winston Churchill